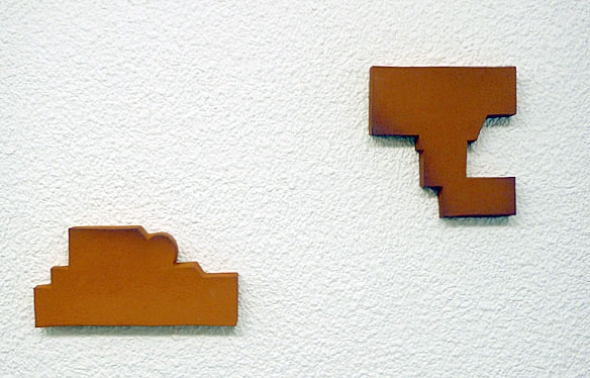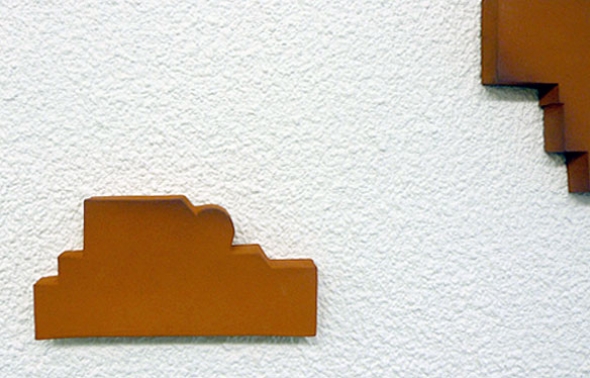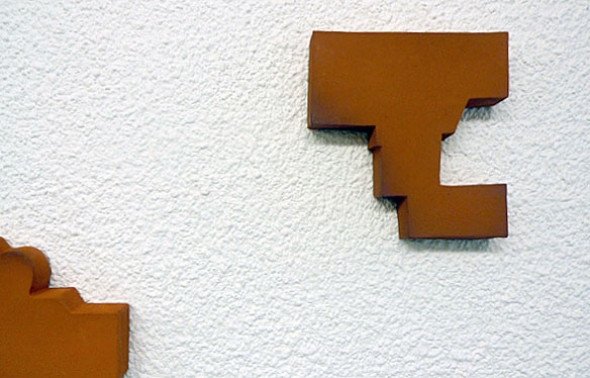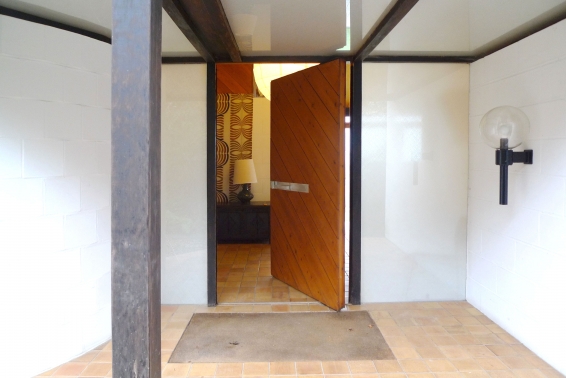 Riggside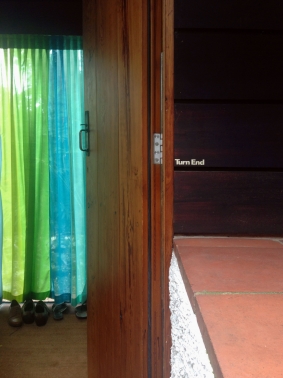 Turn End
19/20.TE+R.T/01-02.2016
Turn End + Riggside Tiles
Are Terracotta tiles in the shape of the ground floor plan of Turn End and Riggside, houses designed by Peter Aldington.
Quarry / terracotta tile is a building construction material, made by the extrusion process from natural fired clay, typically of a brownish-red colour and unglazed. The tiles can be used indoors and outdoors. Terracotta is also used in modelling and means "baked earth".
Turn End Tile
Turn End is part of three village houses (The Turn, Middle Turn, Turn End) in Haddenham, Buckinghamshire designed and built in the 1960s by Peter and Margaret Aldington. They did much of the building work themselves and received a Royal Institute of British Architects Award for Architecture in 1970.
As modern housing, made of wood, concrete block, glass, terracotta roof tiles and floor tiles in a traditional setting, the houses have always been celebrated as a rare British representative amongst the best of European housing design.
Turn End's garden, designed and made by Peter as a natural extension to the house, grew with the buildings, maturing into an internationally renowned garden. The Aldingtons still live at Turn End.
Riggside Tile
Now know as The Anderson House, Ringside is one of the best-known designs of Peter Aldington of Aldington & Craig, one of the most influential architectural practices of post-war domestic housing in Britain. In 1969, Ian and May Anderton, friends of the Aldingtons from Preston, commissioned a small family home in Goodleigh, North Devon for themselves and their daughter Liz. The quarry tiles used for the floor of the living space runs outside onto the terrace. 'It was,' wrote Peter Aldington, 'perhaps the nearest we came to an integration of inside and outside spaces.'
Peter Aldington was one of the first to anticipate the increasing requirement for a return to greater humanism in housing.
Images:
Riggside and Turn End Tiles
Riggside Tile
Turn End Tile
Fired terracotta, various sizes
All rights reserved. Copyright © Sophie Tarbuck.