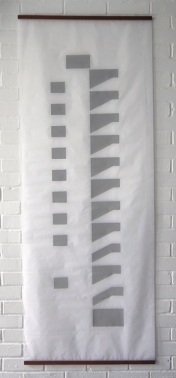 N. 3D ink on paper nylon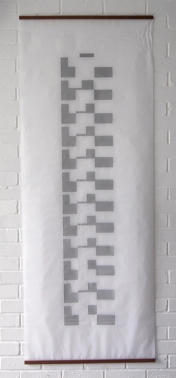 E. 3D ink on paper nylon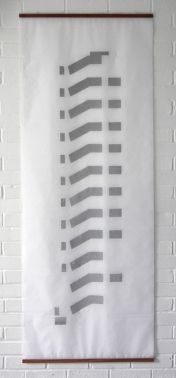 S. 3D ink on paper nylon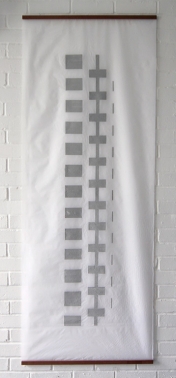 W. 3D ink on paper nylon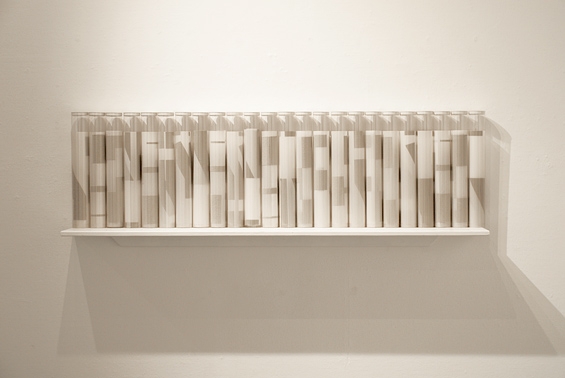 N,E,S,W / Modular. 3D ink on paper nylon in plastic tubes
19/20.N,E,S,W.2011

Developed as part of an ongoing study of concrete car parks in the UK, 'N,E,S,W' is a set of screen prints referencing the concrete stairwell elevations of Trinity Square car park, formerly in Gateshead.

Designed by Owen Luder, one of Britain's most important post-war architects and former President of the Royal Institute of British Architects (RIBA), Trinity Square car park was built in the centre of an outdoor shopping precinct in Gateshead. The building towered over surrounding structures to form a distinctive regional landmark to symbolise growth and prosperity for the local community.

An impressive example of Brutalist architecture, the concrete structure housed seven tiers of car parking decks built over a market hall. The strong horizontality of the main block is counterbalanced by two vertical stair towers and an elevated rooftop restaurant box with expansive windows allowing breathtaking views across the Tyne Valley. The building achieved a place in British cultural memory in 1971 when it featured as the setting for several scenes in the British film classic 'Get Carter', and has since been referred to as the 'Get Carter Car Park'.
In 1995 Arup had carried out a survey for the restoration of the building that sadly never happened. By the time of making this work, the building was in the slow process of being demolished. Arup's plans became instrumental in understanding the structure and developing a representation that was both a direct and indirect reference to the actual building. As an interpretation of the structure, the plans represent the building in an ideal form, releasing it from its reality, which will now form part of how it is remembered.

Printed on modulor lengths at a human scale, each piece was originally displayed facing its opposite. North faced South and East faced West in a way that one can walk through and around the pieces experiencing the separate elements as a physical three dimensional whole.

When Trinity Square was eventually demolished in 2010, Gateshead Council sold commemorative pieces of concrete in specially decorated tins as souvenirs. To reference this, each element of the work, N,E,S and West, were cut into modular pieces and then re-presented in commemorative tubes.

All rights reserved.
Copyright © Sophie Tarbuck.